Archive for 'Comic'
152 items.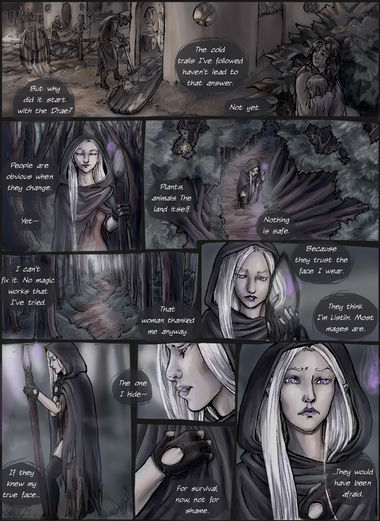 Hello! Lenya is being a bit hard on herself…
I hope you all thoroughly enjoyed the blood moon eclipse last night/this morning, those of you in this part of the globe anyway. There are extras coming later today, I've just been struggling a bit with what worldbuilding pieces to talk about next, so suggestions are welcome and hoped for. As always, thank you for reading!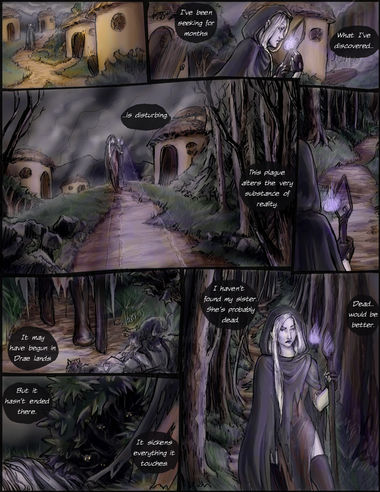 So, newest installment of "year of rebelling technology", my hard drive with all the newly finished halflight pages on it crashed. 150$ and a week later I have the data back but it was unpleasant so updates were yet again thrown off, and, expensively, not entirely lost.
New vote incentives coming later this weekend! Thanks for reading.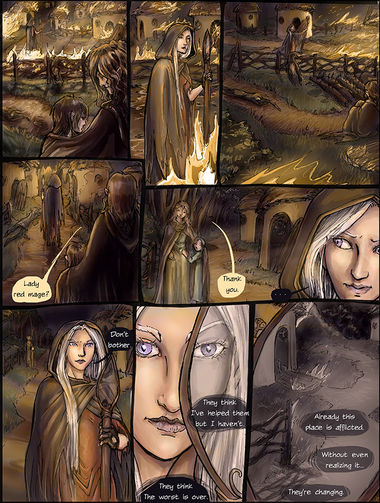 Scene change!
Miss red mage is a bit grumpy, don't you think? Rocking that hermit-wanderer chic though.
This is the first page I tried coloring in greyscale first before adding color, it's an interesting technique. While I'm not sure yet if it really saved me time, I'm not sure anything ever really ends up being time-saving when working on this sort of thing… next comic I do, I swear, mostly-flat-color. Really. I mean it this time.
As always, let me know what you think in the comments! I love hearing from you. If you want to preview next week's page, be sure to vote for Halflight:

I might continue doing little worldbuilding doodles for the votebait, or do pictures of characters y'all want to see. Let me know what you think.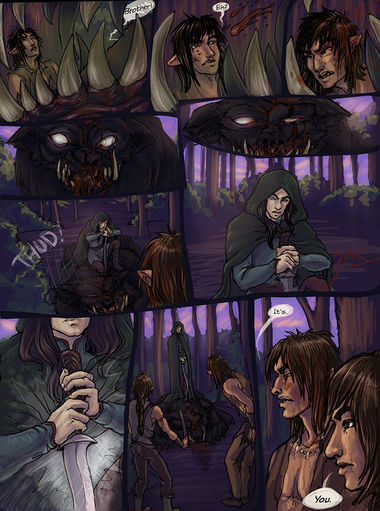 Heeeey everyone! I'm back. I'm also in grad school full time now, which means I wanted to have a BIG buffer before I started posting again – enough to update once a week all semester!
And I did it. So keep watching this space! I'm going to try to stick to Tuesdays after this but it might end up being Thursdays.
I know it's been a while so if you want to start from the Beginning of Chapter 6 click here! I'm also going to put a couple of character summaries in the voting extras soon to help remind everyone who is who.
Which reminds me – new vote bait over here!


I've been trying out something new and doing pages in greyscale first and then adding color, so click above to check out a panel from the next Halflight page, pre-color.
Thanks for reading, I'm really happy to be back!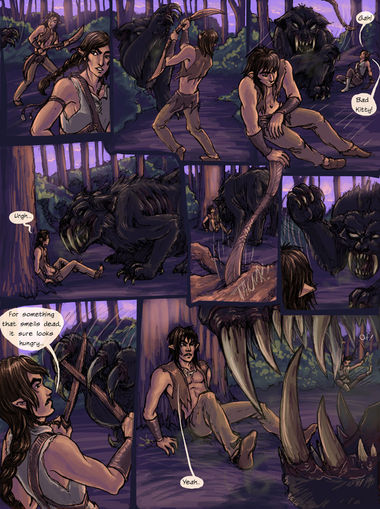 Update! Whew. Doesn't look good for Karhol does it?
My 10 year old tablet has been failing, off and on, so this update was hard to wrangle. I'm trying to sort out getting a new one.
Meanwhile, new votebait!
In this you get a small tour of concept art for the interior of an average rural Listiin household. I guess this is where Katya lives when not at university.
Some stuff happens here.
EDIT: New incentive is up! Go vote and check it out. Previous incentives are going to be added to the Halflight facebook page so you can still see them if you missed out. I think the comic was at 500 something when I got back from hiatus and it's now 363, I just want to thank all of you for showing your support! (what would be a good thank you? Some art?)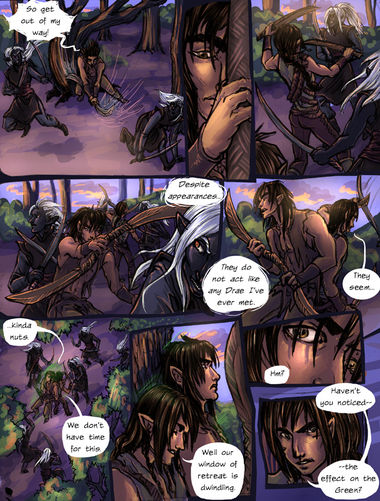 WHAT, I'm actually updating on time? Worlds may end! but seriously, expect steady new pages, and not only that….
New extras!


Vote to see my drawing and explanation of the typical Tulari home. Tune in next week for the Listiin edition. Enjoy!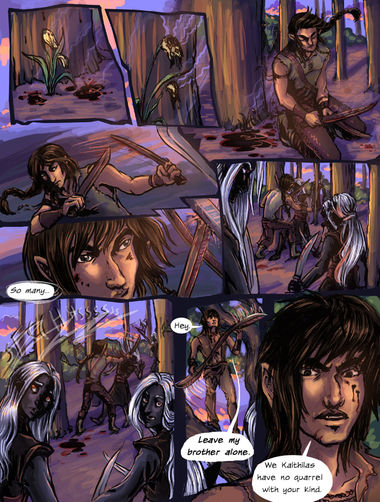 A new scene! I'm back at least for a little while. I need to purchase a new wacom tablet and my life has gone through more rough patches. But there will be more comics.